The Ninjago theme is one that has proven to be one of the most successful themes in LEGO's recent history, as evidenced by its first place in the Top Themes when considered CAGR. The theme has been a hit ever since it hit the shelves for the first time a couple of years ago, product of a mix of sets and a popular TV show, a combination LEGO hopes brings the same results with the released of the somewhat recent Legends of Chima.
Ninjago has been discussed and analyzed several times in this forum, so I wanted to focus this short blog article in a very specific type of set: those that include any of the dragons. I think it will be very interesting to see how all of the Ninjago sets that have included any kind of dragon have been greatly profitable in the secondary market, a fact that can help even the newbie investor to make good decisions and diversify into a theme they would not otherwise purchase for lack of familiarity with it.
I will be listing the sets from smallest to largest, by piece count:
- 30083 Dragon Fight
Comments: The smallest set of the bunch is actually a polybag that originally sold for $3.50 and was exclusive to Target. It included a very small dragon and one minifigure and presents a very decent CAGR, keeping in mind that the low MSRP makes it easier for sets like this to increase substantially in value. The polybag seems to have stabilized in value over the past few months, so if you are planning to get one or sell yours, now is as good a time as any.
- 2260 Ice Dragon Attack
Comments: The first and smallest (excluding the poly) dragon released under the Ninjago theme, this set has been pretty big when it comes to secondary market returns. The set lasted for less than a year on the shelves, and the fact that it was the first released dragon probably help it too to get to the point where it currently is, making it one of the most recent true sleeper sets.
The Ice Dragon remains very popular even more than a year after retirement, consistently selling around 20 sets per month. Most Ninjago collectors and fans more than likely missed out on this set, and if they want to complete their dragon or theme collection they are forced to acquire it at secondary market prices. The set hit a ceiling of around $ 90 this past holiday season, but since then it has lost around 16% of its value. However, once the holidays get going again and even more when the new Ninjago movie hits the theater my guess is that this set will break the $ 100 mark. Not bad considering it went for only $ 20 when widely available.
- 2509 Earth Dragon Defence
Comments: This dragon is actually the most unique looking one, in my opinion, and one that lasted even less than the Ice Dragon on the shelves. In turn, it has also become one of the top performers in this list, with a change over retail of almost 230%! Unlike the Ice Dragon, this set actually keeps increasing in value, with a huge 17% jump over the past month alone.
- 2521 Lightning Dragon Battle
Comments: Another first year release with a very short production run and a exclusive to LEGO and TRU, this was actually one of the largest sets released under the theme at that point with a $ 80 price tag. The set was selling at a very stable price up to December when it jumped from around $150 to $180, and since then it has remained at around that value.
- 2507 Fire Temple
Comments: Finally we get to a set that was retired fairly recently, sometime by the end of last year. This is the largest Ninjago set ever released, and since it remained on the shelves after the craze was already in one of its highest points it may help us determine how well some of the currently available sets will be doing once retired. Besides the dragon, this set included several minifigs and golden weapons, so it was sure to be a winner once it retired. So far, it presents some outstanding numbers with a 56% change over retail and a 25% CAGR. Probably as a result of its longer availability and the fact that investors had more chance and knowledge to acquire it, the set has not grown as rapidly as some of the others, but it is still pretty early to say for sure. We''ll see how it does this holiday season.
Below you will find a table with each set's numbers and a graph that places their change over retail against the average.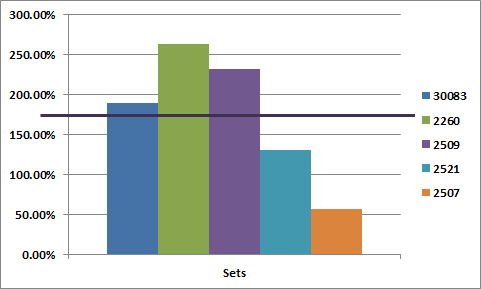 As you can see, pretty much every set has performed extremely well, with the largest sets experiencing a smaller change over retail more than likely as a result of the higher MSRP and recent retirement in the case of the Fire Temple. Every set that so far has included a dragon figure has then been a sure winner in the secondary market, and we should take these results and put them into use to figure out some of the sets we should be putting our money into in the Ninjago theme. The two currently available sets including dragons are shown below.
- 70503 Golden Dragon
Comments: This set includes my favorite dragon as well as the golden ninja. The set was selling pretty good this past holiday season and will more than likely be a great performer once it retires, just don't expect it to be the next Ice Dragon.
- 9450 Epic Dragon Battle
Comments: Second largest Ninjago set. This one includes several cool characters and exclusive minifigs that along with the Ultra Dragon make it one of the highest quality sets released under the theme. It actually shares a lot of similarities with the Fire Temple and I would expect it to perform very similarly once it retires, meaning a nice jump after EOL and some slower growth towards the $200 by the end of the first year after retirement.
Remember that the new Ninjago movie will more than likely boost the popularity of the theme even more, and all of these sets will benefit from the increase and see some returns that would have probably not happened as fast if the movie had not been released. Make sure to get as many as you can in both cases.
I hope you have enjoyed this very superficial analysis of the Ninjago dragons and I thank you for reading it!